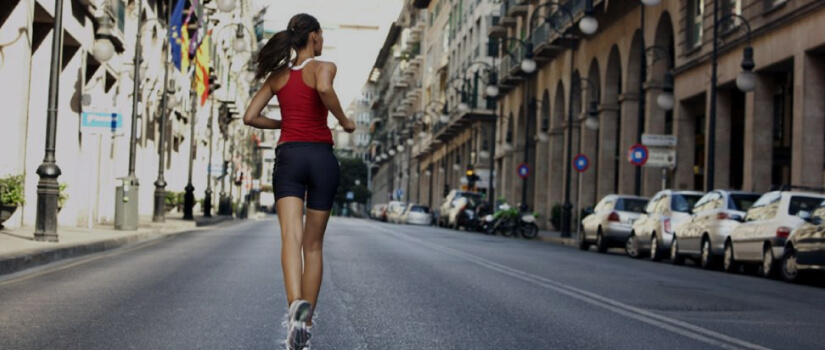 Isn't it a shame that it is over?
By Adrienne Ramsey (Fowkes)
Crossing the finish line of a marathon always brings a mix of emotions. Crossing the finish line of Boston only deepens them for us locals, as we know that our family and friends eagerly await our arrival, and remember that during each mile, we said a little prayer for each of them. The race encompassed everything in the world that it just so much bigger than us.
As many of you know, last year's Boston was my ABSOLUTE worst marathon by a long shot. I was married to my terrific husband Bill just three weeks before the marathon, and let's just say that the bachelorettes cut into the training a bit. (I guess running down the Strip at 4 in the morning does not count as cross training.) On top of that, I had recently started a new medication for Multiple Sclerosis, and it certainly was fighting some sort of internal war within my body.
Finishing Boston 08, I doubted my identity as a runner. I was not sure if I deserved it or not. Honestly, a half hour slower than my slowest? My husband, a very practical man, told me to stop my crying and focus on the positives. Did I run for a time, or was I running to celebrate the fact that I could run?
All summer, I refocused. I ran the bike paths in Nantucket and the beach of Nantasket. I rediscovered running with a friend, both of us with I Pods in tow, along the beautiful little way that we on the South Shore call Jerusalem Road. No fall marathon for me; I bagged New York. Instead, I ran the most awesome Eiffel Tower to Versailles Race while I was in Paris for work. (And then wore m y finishers' medal at USA College Day.) I helped a friend at work discover the joys of running, stepping out with her at lunch time to get a few miles in and have some fresh air away from our office. My husband and I ran up Diamond Head to watch the sunrise in Honolulu, and I remembered that there was more to running than our marathons.
Why do I mention all of this? I know that these months, and this shift in my thinking made running fun again. It turned away from looking at BQs and marathons, but focused on why I loved running. I love the sense of accomplishment that just one mile gives, I love L St (go figure) and I love that for those times that I am on a treadmill or on the road, the rest of my life must wait. And, I just adore my friend that made sure I was at the start line this April 20th.
With this attitude, I traveled out to Hopkinton. We had a great training season. No, we were awesome! When we finished the 20 mile run from Natick, I think we all realized just what we were capable of. We had tested our mettle. And, I realized that running with some great company through the rainy streets of Boston cements both friendships and memories. It certainly helps that we all act as each other sherpas, guiding us through to the end, bringing us to the top of our own personal Everest that we face in the run.
The morning of the race, I was mellow. For those of you who don't know me, there is NOTHING mellow about me. I work in college admissions, teach Spinning at the crack of dawn and talk faster than the normal Bostonian. After saying goodbye to the L St bus, I walked up to the start line, joined my coral and then we were off. From step one, I was in a trance. I was the definition of runner's high. No offense to Ashland, Framingham or Natick, but I don't remember them! In fact, it was so relaxing and every mile seemed to go so easy. I thought of something positive each mile, rather than focusing on the road ahead. Mile one was definitely for my husband, and throughout the race, I thought of each of you who gave me encouragement throughout the training season. All of a sudden, I was at the half way point and the Newton Hills loomed. I faced a problem I had never experienced before- I was "afraid of the bonk" and slowed down because I could not figure out why I felt so good! I did not have my own personal Sherpas- Leann and Maureen- near me to pace off of! Could I finish this final part by myself?
I made it, over the hills, past my alma mater and into Brookline. Kenmore Square appeared, and I was into Boston, onto Hereford, and running into the wind down Boylston. I crossed the line, making the simple sign of the cross. I made it thanking the heavens. Not just for the ability to run, but I also gave my respects for such a positive experience. Don't get me wrong- I trained hard, showing up on Sunday mornings and running on the treadmill during lunch when birthday cakes were served. (I am a sucker for frosting!) But, I think that my renewed attitude toward running helped me to remember that I will never be Kara Goucher, but I can be thankful for the fact that I am healthy, surrounded by a wonderful support crew and that my husband's birthday (April 20th) was not ruined by a grumpy wife who had a bad day!
Boston 09 will go down for my records, not just because I was happy with my time. I rediscovered my identity as a runner this training season. I tested my mettle. Most importantly, I experienced how allowing myself to be part of the network of support that we all offer each other produces energy that cannot be described. We may all have a bad race now and then, but we can utilize the great tribe of runners as we round the bend
My 2009 Boston Marathon
By Maureen Lamie
Thought I would share my marathon story, there are so many out there. What or who motivates us to run. I have had two, what I consider very successful marathons, last years Boston and Baystate in the fall. So of course Boston 2009 was on the schedule.
The training begins. The weather had not been on our side. First the snow storm that actually cancelled a Sunday run???? Never heard of that one before. The next week was the BAC run. I think we all remember that one. All I remember is miles in what was like wet sand. And then I got the full blown flu. Three days of chills and missed that long run. Did manage it on my own though. Three days before the Hopkinton to BC run I got the stomach bug which lasted 36 hours. So went out did my 22, not so pretty but did them. The next 20 miler, which I planned on doing 22, in Kenmore square I got sick and had to stop a few times, but I did finish.
With all this tough training what kept me going was my Mom. My mom is in the late stages of Alzheimer's and in February had her placed in nursing home with no other choices. I watched her mind deteriorate and her body go with. So my running and training became part of my coping and to keep me balanced.
Two weeks before the Marathon my mom entered the hospital with an infection. Also realized the home she was in over medicated her to make it easy. Basically they took the little of my mom I had left. 6 days before marathon Docs at Hospital decided they could not bring back mom anymore. So we decided to pull all her IV's and let her go in her own way. Told she would have 2 to 3 weeks. But my stubborn Irish mom not done yet. She bounced back again slightly. We place her back at the home, not what we wanted but no choices. I myself at the time was fighting a bronchial infection with asthma flair up and was on antibiotics and prednisone 5 days before marathon. My doctor advised me "You should not run But the stubborn Irish in me said no way. If my mom could do this I could do anything.
Off the the start line in Hopkinton. Nerves were unbearable, but asked my mom to be with me. I went out thinking take it slow enjoy, but something deep inside took over and I started running the marathon of my life. I was on a course to run a 3:21…what the heck was I thinking????? But for the first 18 miles I felt incredible thought nothing could stop me. But then onto heartbreak hill. Well it literally took my breath away. I Had an asthma flare up, got that under control, but my quads seized up. Thought maybe I should stop. But no, I kept going walked up the hills and ran when I could. Had to cross that finish line. I took some strength from many places but mostly my Mother. Mom could never do this but I could. So I finally crossed in 3:41.10 and I have never been happier. My mom was with me the whole way. She gave me inspiration she gave me hope.
Today I set my mom up with Hospice and I am going to give her peace, dignity, and most of all comfort. We love her very much and has been one of the toughest mentally and physically training seasons of my life. I owe so much to L Street without them and that 8 am meeting I am sure I would have slept in.
It has been on of the best experiences of my life.. It has taught me so much about who I am and what I am made of….I am just like my Mom
Just thought I would share my story.
Maureen Lamie