UMass Out & Back – 6.5 Miles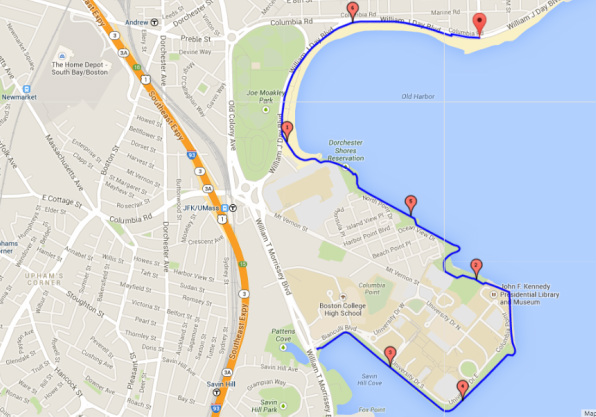 Start from the L Street entrance to the Curley Center at 6:00 PM. Follow the Harbor Walk along the beach, through Dorchester Shores Reservation, past the JFK Museum, around the UMass Boston peninsula, out to Morrissey Blvd., where we turn around and head back.
Some people run 1/2 mile past L Street on the return to stretch this into an even 7 mile run.
---
Waterfront – 5.5 Miles
Run up L Street, over the Summer Street Bridge into the Waterfront district. From there, follow the Harbor Walk around the ICA, and the Federal Courthouse. Sneak around the Barking Crab, run under Seaport Blvd, follow the Harbor Walk past the Children's Museum, past the Gillette building, and onto West Broadway. Run up Broadway and take M Street back to the Curley Center for 5.5 miles.